Run Ads on TikTok
Advertising on TikTok is the new bloom in the advertising industry and why not? A platform listed in the top 5 most downloaded mobile application in the world having 500 million active users across the globe. An advertiser can analyse the potential of such platform. TikTok advertising is grabbing the attentions with its simplified ad manager dashboard and most surprisingly is the result.
Why Advertising On TikTok?-
Advertising on TikTok is becoming a must for every brand especially B2C brands who are looking to tap the rural Indian audience falling in middle income group and above. No wonder TikTok ads are counting in great numbers when it comes to having website traffic, video views and online sales. Brands are rushing for TikTok advertising.
There are many yes which proves TikTok ads as great asset and some of them are mentioned here below-
TikTok has 500 million active users worldwide
Till 2019 Q1, TikTok was 3rd most downloaded app
Most downloaded app on Apple App Store
41% users are aged between 16-24 years old. Best platform for the brands targeting teenagers.
Individual user spends on an average 52 mins of their daily routine
Till 2018, more than 1 billion viewed everyday
99% of users access the app everyday
There are more likewise stats which compels a brand to adapt TikTok advertising.
How to run ads on TikTok?-
Bringing new interface in the market and making it user friendly is the toughest challenge but TikTok have handled this execution in the most perfect way. Once you login into the TikTok ads, you will find the juice of present ad manager of all platforms which makes it easy and simple for advertisers.
Let's check out how to run ads on TikTok-
Step 1- Login to TikTok Ads https://ads.tiktok.com/homepage/. and create your account by clicking on Create an Ad button.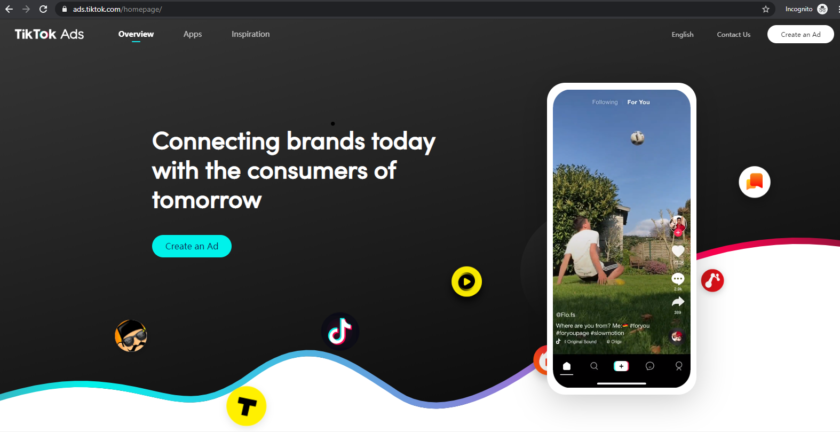 Step 2- Once you fill the required details as a new user, your TikTok ad account will be created. If you are an existing user, directly login to the dashboard.

Step 3-Click on campaign from the navigation menu. From campaign screen, click on create and this window will be there in front of you.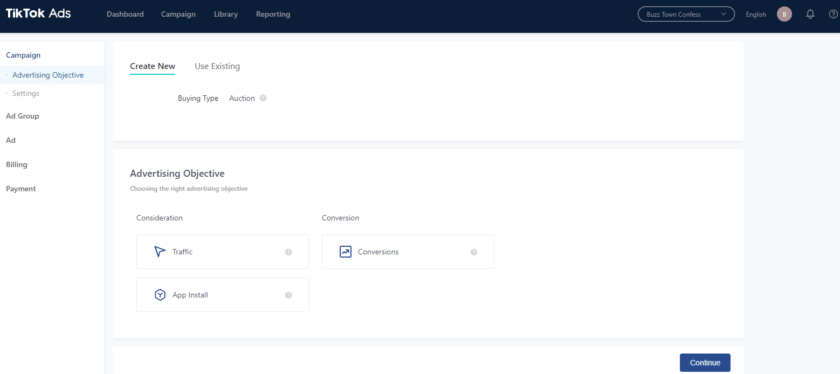 Step 4- Choose your campaign objective (I am choosing Traffic) and then name your campaign. Below the campaign name you will be asked to allocate budget on daily or lifetime basis. Currently the minimum budget it is accepting for both is INR 5000. Click on continue button.
Step 5- You will have screen on which you will have to create an ad set starting by naming it. In next section you have option to choose placement or let the TikTok decide for you. There are more platforms added as placement like Vigo, Helo, etc.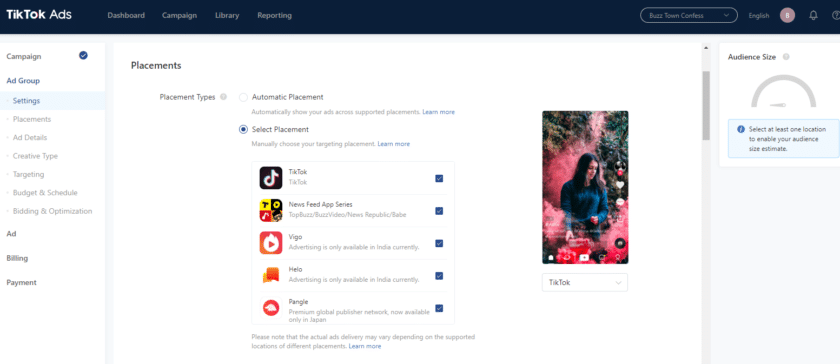 Step 6- Once you select the desired placements, you will have to enter your ad details like promotion type, profile image, display name etc. Fill the details and move to targeting section below.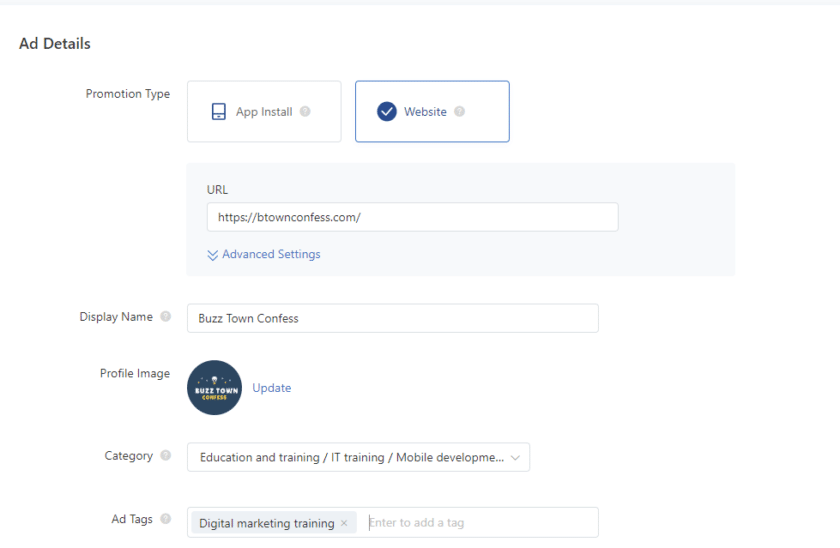 Step 7- Under targeting, you can choose your pre-saved audience in the navigation menu at the top. Additional y you can create your audience and also manually can fill the details below. Enter the demographic details like age, gender, interests and geo location. You can see the audience reach via meter at top right of the page.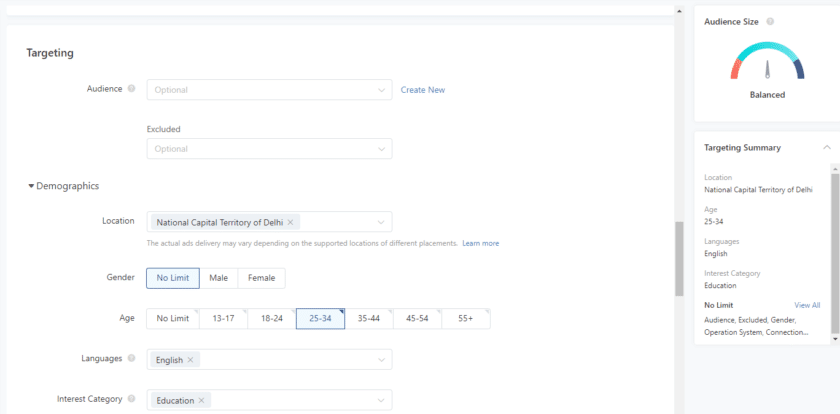 Step 8- In the same section you can choose the devices and network connection of the targeted users to whom you want your ads should be shown. Next comes budget and schedule where you can enter minimum of INR 2000 as budget and a end date of the campaign. Adjust and provide a CPC limit just below it. After selecting the delivery type, click on next button.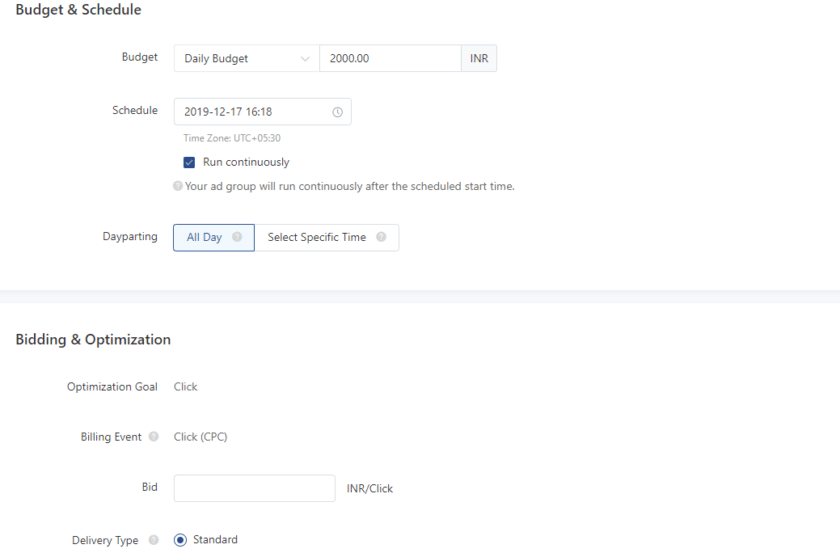 Step 9- This window is for uploading the campaign creative which is either a video or a creative. Best suited dimensions of the creative must be-
Video- Resolution:-
Horizontal(1280*720)/Vertical(640*640)/Square(720*1280)
Recommended format: .mp4, .mov, .mpeg, .avi or .gif
File size: Up to 500 MB
Single Image-
TopBuzz&BuzzVideo 1280*720px/1200*628px
Vigo 1280*720px/1200*628px/375*604px
Helo 1280*720px/1200*628px/640*640px
Recommended format: .jpg/.png.
File size: Up to 500 KB max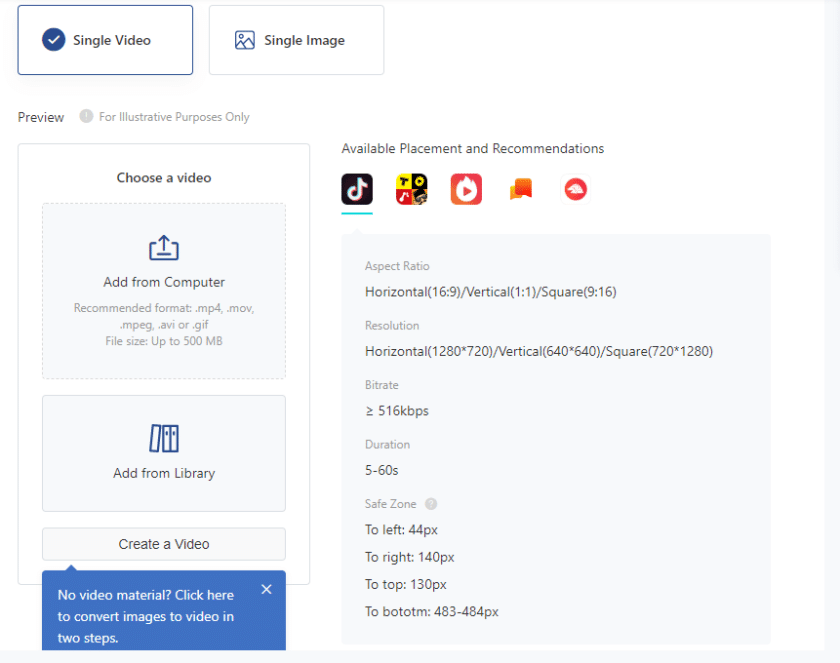 Step 10- Once you upload the creatives in desired format, click on the next button to fill the billing details. After billing details are approved, your campaign will go under review and will start delivering provided there is no any obstacle as per TikTok ad policy.
Bonus- You can track all your TikTok analytic via installing the website/mobile app pixel from the library section. Also you can create a customized report template of the ad campaigns.
Conclusion-
TikTok advertising can be very effective if targeted strategically and executed efficiently. Understand the interest of your target audience and reach them accordingly.
For advertisers, this ad manager is perfect for the champs and is very clear in terms of stats and metrics which gives you free hand to optimize the campaigns as per the response.
Moreover you can reach out to help and support team of TikTok ads by clicking question mark on top right anytime while accessing the ad dashboard.
To make it more convenience for better understanding of How to run ads on TikTok, we are coming up with our video tutorial named as TikTok Advertising Video on our YouTube Channel https://www.youtube.com/channel/UCbssFp06lJs3IUaqXF-K69w
Subscribe with us for more likewise digital marketing tutorials.
Kick off your TikTok Advertising campaign and do let us know in case you face any difficulty while uploading, structuring or struggling with campaign performance.
Happy Advertising!